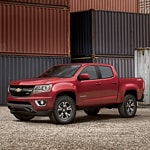 Here at Keller Chevrolet, we regularly get asked about how the Chevy Colorado performs against the competition. We're happy to say that the answer is: very well. The Colorado has been a mainstay in the US truck market for some time, and it's easy to see why with the latest model.
The Colorado boasts an impressive standard engine that can out-perform similar truck models on the market. With a max towing capacity of 7700 pounds, there's very little that this truck can't haul. Not to mention the Colorado's impressive horsepower numbers it can achieve with its V6 engine -- we're talking 308 horsepower here, with an impressive 369 lb-ft of torque.
The Chevy Colorado's performance offerings make it a prime choice for any driver that wants the flexibility of a light pickup truck without giving up the power and performance offered by larger models.